Welcome to Castle to Coast 2023, a new and innovative triathlon event, one that broke out of the mould of racing as fast as you can and embraced completing epic journeys by swim, bike and run. 
This unique challenge is different than many other middle distance triathlons featuring a spectacular journey designed to be appreciated and occasionally cursed at. This is a long day out with a fantastic finish line location right in the heart of Brighton where you can dip your feet in the sea and enjoy a well earned rest.
Take your time with the event, take in the fantastic views along the way, enjoy the journey with new friends and teammates and relish the challenge to come.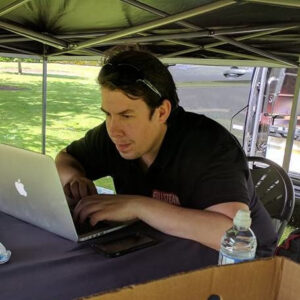 See You On The Startline
LEE BROWN
EVENT DIRECTOR
SATURDAY – 22/07/2023
WINDSOR
| | | | |
| --- | --- | --- | --- |
| | | | |
| | | REGISTRATION & EVENT VILLAGE OPEN | |
| | | SWIM STARTS BETWEEN THESE TIMES | |
| | | NON SWIMMERS DEPART VENUE | |
BRIGHTON
| | | | |
| --- | --- | --- | --- |
| | | | |
|  13:30 | 20:30 | FINISH LINE VILLAGE OPEN | HOVE LAWNS |
| 18:00 | 20:00 | RETURN COACHES TO WINDSOR | |
START
DORNEY LAKE
COURT LANE
DORNEY
WINDSOR
SL4 6QP
PARKING
Parking is available free of charge at the venue on the day of the event.
No cars may be left overnight before or after the event due to other events taking place before/after castle to coast. Any vehicles left on site may be removed from the venue.
TRANSITION 2
HASSOCKS LEISURE CENTRE
DALE AVENUE
KEYMER
HASSOCKS
BN6 8LP
PARKING
Limited parking is available on the site and we request that this is kept free for event staff and relay team members only. Parking is available on the residential roads outside and within the village centre.
FINISH
HOVE LAWNS
KINGSWAY
BRIGHTON
BN3 2PE
PARKING
Parking is available on street and in near by local authority car parks. Please consider travelling sustainably to the event where possible.
RECEIVING YOUR REGISTRATION PACK
Your bags, stickers, and bib number will be sent out in the post to you two weeks prior to the event. If these are not received 3 days before the event please let us know and we will make sure a pack is available for you to collect at the event. For relay teams a single pack will be sent to the lead booking on our system.
REGISTRATION AND BAG SYSTEM
IN YOUR REGISTRATION PACK YOU WILL RECEIVE:
You will be provided a Bib No. along with Helmet and Bike Stickers.
Your blue bag should contain all the kit you intend on needing for the bike portion of the event and will be left in the blue bag area of transition prior to the event start. After the swim you will place your wet kit in this bag, you will then either place the bag in the Windsor bag drop or in the bag drop for transport to Brighton.
Your red bag should contain all the kit you intend on needing for the run portion of the event. Prior to event start you will drop this bag off to our transport team. After the bike you will place your bike kit including helmet in this bag, you will then hand the bag to the transport team ready to go to either Brighton or Windsor.
Your white bag should contain any kit you want us to take down to Brighton for you and will be available after the finish line. Prior to event start you will drop this bag off to our transport team. Alternatively you can use a rucksack or small transition bag to transport your bag too Brighton which we will tag for you at the bag drop.
YOU WILL COLLECT YOUR SWIM CAP AND TIMING CHIP FROM THE DESK IN TRANSITION ON THE DAY OF THE EVENT
IF YOUR KIT DOES NOT FIT IN THE BAG PROVIDED ADDITIONAL BAGS WILL BE AVAILABLE ON EVENT DAY.
BAG FLOW IF FINISHING IN BRIGHTON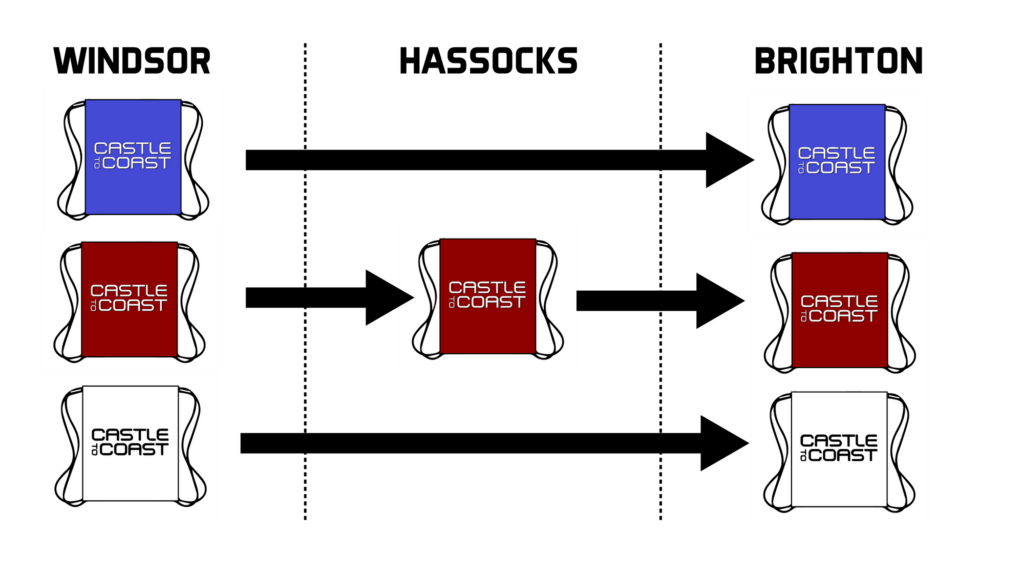 BAG FLOW IF RETURNING TO WINDSOR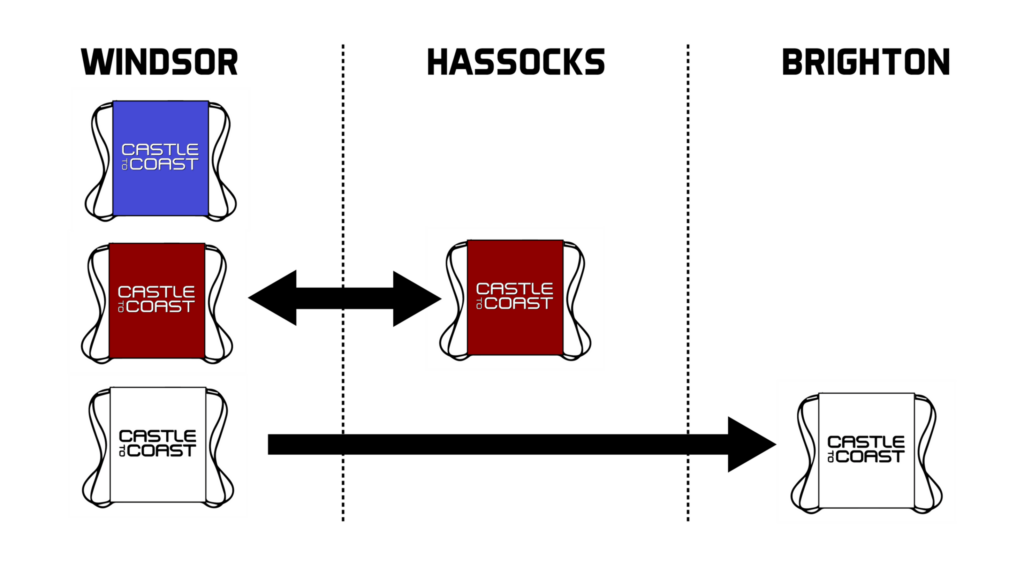 Whilst not a competitive event each participant will be provided with a timing chip, this will allow people to track you online on the day and afterwards you will be able to see your individual data from the day. However, please remember this is not a race. Your data will help us plan future editions of the event and understand the flow and timing of participants. Please try and take good care of it, if you lose it you will unfortunately be charged £10.
We will be on site every step of the way so if you need assistance please find us and let us know. We strongly recommend you keep your mobile phone with you on the day and you will be provided prior to the event with a phone number to reach us on via text message or call should you require assistance.
Bike Mechanics will be available in the event village prior to the event and at pit stops on the route should you run into trouble, their labour is free but you will be billed for parts as required to get you moving. If you break down on route and can't repair your bike yourself contact us and we will arrange one of our bike supervisors to come and see you.
We have an expert team of medics who will be shadowing our athletes throughout the event to make sure you arrive safely. If you require assistance please contact us with your what three words location and we will dispatch the medic to you.
Prior to event day we strongly recommend installing what three words on your phone so you can accurately provide your location should you require assistance.
SETTING UP FOR THE EVENT FROM 6.30AM
Prior to the event start at 08:15am you will need to have completed the following things on site:
Collected your timing chip.
Placed your bike in transition.
Placed your blue bag with your bike.
Placed your red run bag in the Hassocks bag drop.
Placed your finish line bag in the Brighton Bag Drop.
Got yourself into your wetsuit and ready to swim.
WETSUIT & TEMPERATURE RULES
Wetsuits will be optional if the water temperature is greater than 15 degrees Celcius.
Below 15 degrees Celcius wetsuits are mandatory.
You are free to use a tow float if you so wish to help you comfortably complete the swim, whilst recommended these are not required.
ACCLIMATISATION
If Covid rules have been fully relaxed by event day swimmers will be able to enter the water and acclimatise prior to the event start.
If covid rules have not been relaxed unfortunately no acclimatisation window can be provided. 
THE SWIM START
At 08:30 the swim will begin for all those who have already entered the water. For those who have not yet entered the water, you will have up to 30 minutes to enter and begin your swim. Please take your time and maintain social distancing at all times.
To accommodate those who might not be able to complete the full distance due to lack of training.
You can opt on event day to turn early at the yellow buoy as shown on the plan below and complete a 900m swim.
You can choose not to swim at all, simply remain on shore after the swim start and you can start the bike leg any time after 09:15.
You will be able to self manage this on event day and do not need to contact us to tell us your preference.

Upon exiting the water you will collect your transition bag with your bike.
Here you can change into your bike clothes or you can use one of our changing tents provided.
Once ready you will take your bag and drop it at the bag drops ready to go to Brighton or leave it where your bike was to remain in Windsor.
You will then make your way to the bike park and depart for Hassocks.
65.5mi – 3262ft CLIMB
THE BIKE COURSE IS A FULLY MARKED ROUTE
GPX files will be issued in the week prior to the event, due to the point to point nature and UK roads some last-minute adjustments may need to be made prior to the event to avoid roadworks.
BIKE SPECIFICATIONS
All bicycles and bicycle equipment must conform with the following rules. Failure to comply with these rules may result in you being unable to participate in the event.
Handlebars and stems must be fashioned to prevent any danger to other participants. All handlebar ends must be solidly plugged to lessen the possibility of injury.
The bike must have working brakes with a minimum of one brake required.
There must be a freewheel mechanism between the crank and the rear wheel that allows the bike to roll forward with the pedals stationary.
All aspect of the bike must be in safe good working order.
EVENT RULES
The participants must at all times ride in accordance with the rules of the highway code, give way at junctions and ride no more than 2 abreast.
Please ride single file on narrow roads where passing may be difficult.
Please be aware of other road users at all times including pedestrians, horses, cyclists, drivers and HGVs. You are an ambassador for our new event and we want to be able to run this event for many years to come.
Time trial bikes and riding is permitted on a sensible use policy; they may not be used in group riding, heavy traffic or whilst approaching road junctions. We recommend they are only used whilst in solo situations.
No littering shall take place at any time during the event. If you are seen littering by our team you will be removed from the event.
AID STATIONS
There are two aid stations on the course.
These are equipped with toilets and feed stations.
The feed station will be self serving and stocked at a minimum with the following
Water
Sachets of Performance Energy Drink
Bananas/Fruit
Flapjacks/Cookies or similar
Assorted Other Snacks
MECHANICS
There is a mechanic based at each aid station, his time and labour is free to you on the event day but you will be charged for any parts required.
CUT OFF's
You should be off the bike and making your way onto the run course by 4pm, where this cut off has not been met and the bike course management feel your are not making sufficient progress you may be advised to stop, and may be brought forward onto the run section of the event.

Upon entering transition you will drop your bike off with our logistics partner who will load your bike safely to be transported to Brighton or Windsor.
You will then make your way inside and collect your run bag, changing from bike to run you'll repack your bag and hand it again to the logistics team for transport.
Get yourself ready to depart, grab some refreshments, use the facilities and then head out on to the run course.
DISTANCE 14mi – +1300ft Climb 
.
EVENT RULES
The run takes place over a variety of shared trails, bridleways and sections of road/pavement to get us safely from Hassocks to Brighton.
Please be considerate of other users at all times and pay attention for traffic
MP3 players are permitted where they allow the runner to also here traffic, marshall instructions and to generally stay aware of their surroundings.
No littering shall take place at any time during the event. If you are seen littering by our team you will be removed from the event.
The final section along Brighton Sea Front can get busy in places, take your time and soak up the atmosphere.
Please note that whilst not an entirely cupless event we highly recommend that you use a hydration vest or bring a water bottle with you on the run section you can refill at the aid stations along the way.
AID STATIONS
There are three aid stations on the run course.
Please note that due to National Trust restrictions there are no toilets on the course until the second and third aid stations at 7 & 11 miles please, therefore, make use of the facilities at Hassocks/Transition before you depart if you think you will need them.
The feed station will be self service and stocked at a minimum with the following
Water
Sachets of Performance Energy Drink
Bananas/Satsumas
A Variety Of Sweet & Savoury Snacks
As a relay team all the event stages as described here remain the same with the exception that you will be transporting yourself between stages and will be ready to complete each stage, therefore, bypassing the transition stages.
You can make use of all the facilities available as required in order to complete your journey, a registration pack will be sent to the lead booking on the team.
At the finish line you may all pass through together as one group and relay teams should wait at the end of the finish chute for their team mates.
Once you finish the event you will be presented with your finishers medal and T Shirt.
Meet your supporters, relax and when you're ready come and collect your finish bag.
A mixture of food and drinks will be available within the transition area post event for athletes to enjoy and being centrally located within Brighton there is a vast array of local eateries, stalls and attractions to enjoy once you've cooled down.
When your ready grab your kit and bike from transition, unless of course your returning to Windsor where your gear will be waiting for you.
IF YOU ARE COLLECTING YOUR BIKE FROM BRIGHTON PLEASE REMOVE FROM THE EVENT VILLAGE BY 8.30PM.
RETURN COACHES TO WINDSOR
There are 2 coaches that will arrive depart as soon as they are full at 18:00 & 20:00 please take your finish line bags with you on the coach and everything else will be waiting for you in Windsor. If you are not on a coach by 20:00 hours you will have missed your return transport.